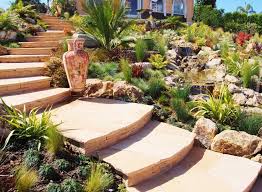 So as the "Flagstone Specialists" we get a lot of calls regarding flagstone. The first thing people ask is: "how much does flagstone cost?" That's tough to answer, and if I can use an analogy, its like calling a supermarket and asking "how much are your vegetables?"
Let me explain why.  Flagstone is a generic term for any sedimentary stone split into layers and laid as "flags" in a pattern on the floor. There are many types of stone that are typically quarried and laid in this manner.
I'll list a few of the types of flagstone we carry:
Sandstone
This stone commonly found in the Southwest states, like Arizona, is a sedimentary stone formed by layers of sand.  The color patterns are soft pastels and range from beige to red.  Our Arizona Sandstone comes in colors called "Buckskin" which is a gold, "Bucksin" which tends to go from gold to peach, "Rosa" which is a deep pink, and "Red Sedona" which is a terracota red.
Pros: Tends to stay cooler in summer, holds up well in most applications: driveways, walk ways and patios. Very cost effective.
Cons: Very porous and tends to absorb water which can cause damage in colder climates. Due to the porosity it can absorb oil and grease easily. So we recommend good sealing after installation. Some colors can be soft and flaky.
Quartzite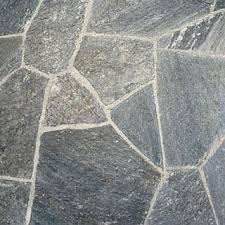 This flagstone commonly found in mountainous areas of Oklahoma, Idaho and Utah, is a form of metamorphosed rock with a glossy smooth surface.  It looks like it has speckles of silver, called mica. The colors are generally greys to golds or a blend. There are some reds, pinks and greens as well but are not as common.  We stock Idaho Quartzites in "Silver", "Charcoal" and "Gold" at our stores.
Pros: This is a very hearty stone, resistant to wear and tear.  Holds up well in cold weather or rain and stands up to chemicals.  Its a great non-slip surface and is more resistant to staining than sandstone.
Cons: Because it is a hard stone, it is harder to shape and isn't as easy to form with chisel and hammer.  It also requires a bit more maintenance, regular cleaning and resealing, due to the rough, textured surface.
Bluestone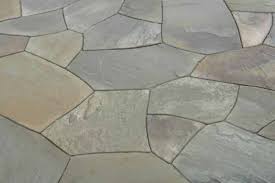 This stone which comes from the Northeast, usually Pennsylvania and New York, is a blue-green sandstone but denser than the variety found in Arizona.  Colors range from blue grey to khaki to purple. Our Pennsylvania Bluestone comes in three varieties: Blue Blue, Full Color (which is a blend of all three colors) and Lilac. It's also very popular in cut patterns or Ashlar pattern, which is a combination of squares and rectangles. We also carry treads for stairs and pool copings.
Pros: This is a tough, dense paver with a nice grip for a non-slip surface.  It holds up well in the cold climate of the Northeast.
Cons: Must be sealed to preserve its color, resist any chlorine or saltwater in pools or spas, and to protect it from scratching or staining.
Slate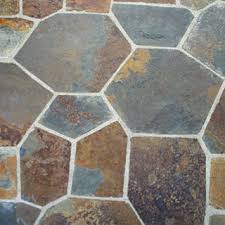 This stone is commonly found in the Northeast, the most common from Vermont.  Most of what we carry here is from India or China.  Slate is a metamorphic rock that is layered with clay like minerals.  They common in a multitude of colors and are often multicolored.  You can find slates in every color of the rainbow from green to blue to red.
Pros: This easy to work with stone can be shaped and formed with no problems. Its ideal for wall cladding as well as for flooring.
Cons: Easily splits and is not usually found in large slabs.  It requires sealing for stain resistance and to reduce efflorescence.
Limestone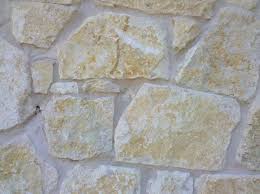 This light colored stone from the plains of Texas and Indiana is a sedimentary rock composed of calcite. Its a natural split surface that can be polished.  The colors tend to lean towards the creams, beiges or greys. We carry a stunning Limestone from Texas called Classic Cream.
Pros: This stone which can be found in ancient Greece and Rome, is long lasting and weather resistant.  It holds up well in most climates and is easy to work with.
Cons: Its very heavy and susceptible to acid.
Travertine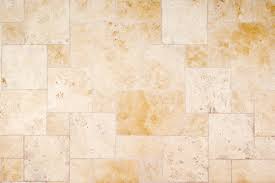 This variety of limestone is found in some Western states, like Texas and Oklahoma.  But most of what we sell here is from Mexico, Turkey or the Middle East. Travertines tend to range from whites to beiges to golds.  The surface can be pitted or have tiny holes, which are good for grip when used outdoors. Or they can fill those holes and have a very smooth finish or be polished and used inside for kitchens, bathrooms or other interior floors and walls.
Pros: Durable, higher end stone. Stays cool for indoor surfaces. Can be very cost effective.
Cons: Can be difficult to maintain if surface is very pitted.
I hope this has helped explain a few of the differnences you'll need to know when selecting the right type of flagstone for your next landscaping project.  And if you have any other questions please feel free to contact one of our 4 Los Angeles area stores.