From Outdoor Living by Belgard Blog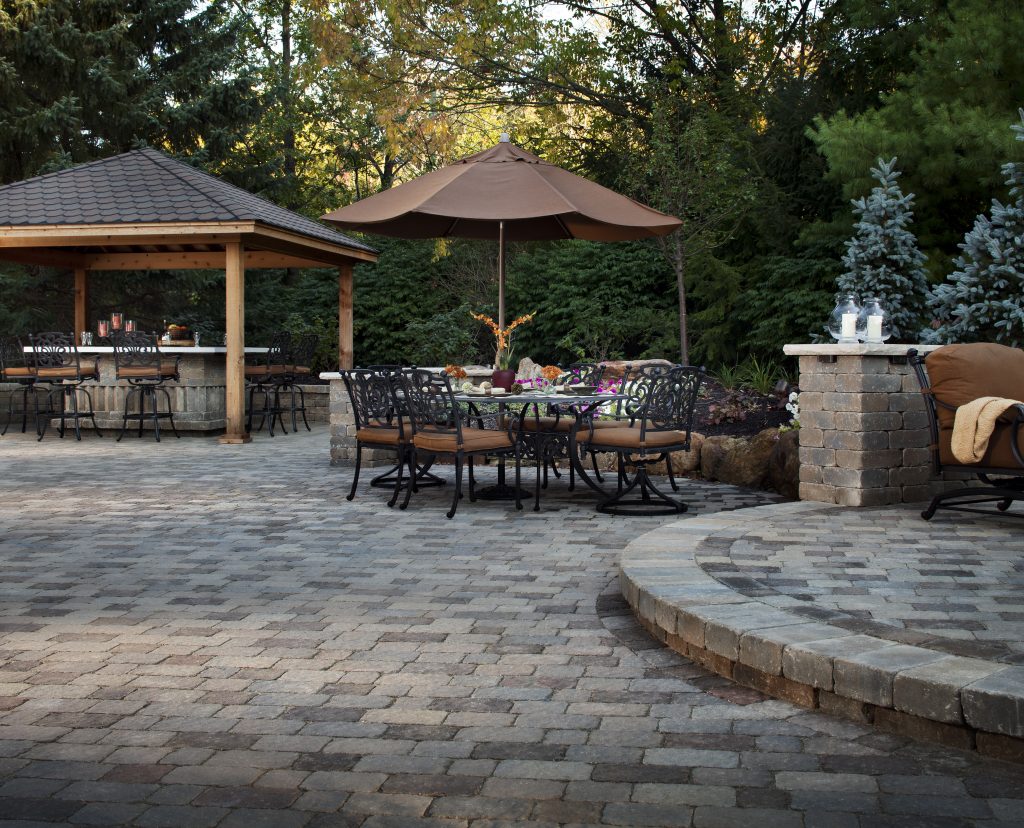 "Do I need to seal my pavers?" The short answer is Yes.
Paver sealant is an important maintenance tool to keep paver patios, walkways, driveways and pool decks looking as beautiful as they day they were installed.
However, "too much of a good thing" can come into play, and you should be wary of over-applying paver sealer by reapplying too often, which could create a haze. This week's blog offers tips for knowing when it's time to seal and how to best achieve the desired look.
Should all concrete pavers be sealed?
Yes. Concrete is porous and will absorb stains if not sealed. Sealants can also protect paver color from fading.
Do all paver sealant brands offer the same basic protection?
There are definitely some poor paver sealing products on the market. Don't trust the fact that you bought it at a big box store or that it's a high-profile brand. Just because a brand is good at one product category (like paint) doesn't mean they are the best in another. Belgard recommends Techniseal® sealants. When it comes paver sealant, Techniseal® is a pioneer in the industry has a robust R&D department, resulting in effective and durable products specifically created for paver installation and maintenance.
Is any one paver sealant finish more protective than another?
There are basically two types of paver sealants: film-forming (gloss or semi-gloss finish) and non-film-forming (matte finish). Film-forming sealants, such as Wet Look and Clear Look, offer the ultimate protection because they create a physical barrier on the paver surface. However non-film-forming sealants, Natural Look and Color Boost , still offer excellent protection and l ast a bit longer.
How long should new pavers cure before they are sealed for the first time?
If using a non-film-forming paver sealant, wait one week before sealing. If using a film-forming sealant, wait 30 days to avoid trapping moisture under the protective barrier.
Is there a prep process before applying paver sealant?
Even new pavers should be cleaned with Techniseal® Paver Prep prior to sealing. Not only will it clean the pavers, but it will open the pores on the surface to allow better penetration of the sealant. Older pavers will also benefit, as Paver Prep will remove any efflorescence (or whitish salt buildup) that has accumulated. Any stains should be removed prior to applying Paver Prep, using the specific stain remover for the type of stain. For more information, read last week's blog on paver stain removal.
How long should pavers dry after being cleaned and prepped?
The answer depends on your climate. In warm, sunny climates, the pavers will be dry and ready to seal in a few hours. In cooler climates or shady areas, it's best to wait about 24 hours.
What are the ideal weather conditions for sealing?
Ideal conditions would be 75 degrees and sunny; however, anywhere between 50-90 degrees is generally fine. Take note that solvent-based sealants evaporate faster, so lower temperatures are better for application.
How often should paver sealer be reapplied?
The basic rule of thumb is every 3-5 years. For film-forming sealants, you will be able to notice when the physical barrier is showing signs of wear. For non-film-forming sealants, you will begin to see a significant color change of pavers during a rain when the sealant is wearing thin. Keep in mind that in cases of a really heavy rain, even well-sealed pavers may darken for a couple of days until the water fully evaporates, which is not an indication of sealant failure.
PAVER SEALING APPLICATION TIPS:
Like with painting, it's best to keep a wet edge on a continuous area. In other words, don't let a section dry before you finish. Once you start working, keep working.
An application sprayer (available at any hardware store) makes it easier to work faster.
Apply paver sealant to saturation. Get the pavers good and wet to make sure all crevices are covered. Then use a dry roller to soak up the excess to avoid lines and drip marks.
Always follow the manufacturer's instructions.
Visit Techniseal's website for more DIY paver sealant application tips. When in doubt, hire a professional. To find qualified contractors in your area, visit the Belgard contractor locator.