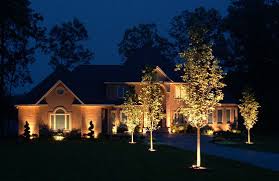 One of the best ways to create a great aesthetic vision on your property is to utilize landscape lighting outside your home. Not only is this a great way to decorate your front yard area, it is also an effective safety measure that can keep intruders away from your house.
However, there is always a question of which type of lighting works best: LED or halogen.
There are pros and cons for both, and it is worth exploring them in detail so that you can make the best decision as to which one is more appropriate for your landscape lighting project.

Halogen Landscape Lighting Pros
A major benefit of halogen lights is that they are cheap. In fact, they are cheaper than LED lights, which means you can spend far less money on many of them when you are using landscaping lighting on your property.
Depending on the brand and wattage as well as the size of bulbs you purchase, you can expect to spend anywhere from $4 to $10 per bulb.
The quality of lighting of halogen bulbs is generally considered very good. This means that they are great for landscape lighting.
You should experience a good amount of brightness for your property, which is both good for aesthetics and safety. Halogen lights are also capable of being used with a timer. This means you can use them in your landscape and have the timer tell them exactly when they should light up or turn off.
In particular, low voltage halogen lights are good options when you are looking to save energy with your landscape lighting. They are generally low on energy, although they are not inordinately so.
You can expect to save around 20 percent on your energy bills overall when using halogen lights for landscaping.
In general, you can place your halogen lights anywhere, whether high or low. This means you have a lot more flexibility with your landscape lighting when you rely on halogen.

Halogen Landscape Lighting Cons
Unfortunately, in spite of the cheap cost of halogen lights, they do not last very long when compared with other types of lighting.
This type of landscape lighting will actually end up costing you more in the long run due to the fact that they only last from 2,000 to 5,000 hours total. What this means is that you will have to replace them more often, which can add up over time.
The costs for wiring halogen lights can also be pricey. You may shell out more money for the fixtures and other parts just to get the lights running.
Maintaining halogen lighting might end up being more trouble than it's worth in the long run, especially when you have 100 or more bulbs in your landscape lighting setup.
Additionally, you must keep halogen light bulbs that are working off of the same system positioned at an equal distance from the transformer. This is necessary for the sake of consistency and can be a burden over time.

LED Landscape Lighting Pros
Although LED lights are more expensive to buy, in the long run, they are worth it. This is because they have a much longer life than halogen bulbs at anywhere from 30,000 to 50,000 hours. You can rest assured that your landscape lighting will burn bright for much longer than one year. You can expect to get at least a good 10 years out of your LED lights, depending on use.
Like halogen lights, the lighting ability of LED lights is very good. You will get great quality out of your landscape lighting when you use LEDs.
Maintenance costs are much less frequently needed and end up being less money with LED lighting. You will not have to do much in that regard, and this type of lighting is much more energy efficient.
In fact, you can save up to 80 percent of your typical energy costs when you use LED lights for your landscape lighting.

LED Landscape Lighting Cons
Initially, LED lights really can be expensive for the average homeowner. Depending on the type of bulb and its wattage, you can expect to shell out anywhere from $20 to nearly $100 per bulb.
If you choose LED lights to use in your landscape lighting, it is recommended that you place their fixtures higher up in a place that is difficult to reach.
This is largely due to the fact that it will allow you to save costs on maintenance. LED is much more easily damaged when placed in lower areas.
LED vs. Halogen Landscape Lighting
Overall, you will benefit more from using LED lights for your landscaping due to the fact that it is less expensive to maintain and gives you more flexibility in your designs.
Although halogen lights are far cheaper to buy, they won't last anywhere near as long and you will find it pricier to have to maintain them over time. LED lighting also has the edge due to their greater efficiency, which means you will save a lot more – up to 80 percent – on your energy bills.
Halogen lights are generally better if you want more flexibility with the design of your landscape lighting.
Great Landscape Lighting Ideas
After you have an idea of which type of lighting you prefer to use, you will want to begin thinking about what type of landscape lighting design to use.
Of course, there are many different ways you can go about bringing your landscaping lighting ideas to life. It's best to talk with a landscape lighting contractor for help with the design and installation of your lighting.
If you have a lovely walkway in front of your house that leads up to your front door, you can have a little fun with it. If you are like a lot of other homeowners, you probably have plants creating a fashionable walkway to your home, such as shrubs. Consider winding some small bulbs in the plants so that you have an area that it lit up and draws attention to your landscape.
You can do something somewhat similar with your landscape lighting if you have a stone walkway that leads to your front door. This is a great design idea whether you have steps or not. Place your lights on either side of the stone walkway so that they create a line that leads right up to your doorway.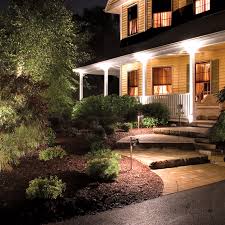 For many homeowners, incorporating an outdoor pond in the front of their house or even a backyard waterfall is one of the most beautiful ways to utilize landscape design.
You can take that a step farther by adding gorgeous lighting to these areas. Place lights inside your pond or as a decorative border around it to really enhance your outdoor living space.
A common trend among homeowners is incorporating beautiful landscape lighting ideas into the garden.
For instance, if you have some flowering plants in a distinctive pattern along your property, whether in your garden or front yard, you can use lighting fixtures inside of stakes to hold the plants in place in the soil. This type of landscape lighting serves a dual purpose of lighting a path along the area as well as keeping the plants affixed so that they can thrive and blossom.
It may seem odd, but an uneven and irregular setup with your landscape lighting can really work well in some settings.
Instead of following a regular pattern of lighting up a path on your property, consider placing lights in a more irregular manner so that random areas are lit up.
It will probably surprise you that they will look even more beautiful than if they were arranged in any particular way. Moon lighting is an absolutely gorgeous way to play with lights in your landscape.
You can light up a good deal of your property by placing lights very high up in the trees. As a result, you will find that your home will have more of a woodsy feel and will appear to be spotlighted. One thing to keep in mind with this type of landscape lighting, however, is that you will have to get the lights at least a good 30 to 40 feet up in the trees. It's best to hire a landscape lighting company to help. Consider this design method to create a dreamy effect. It works well if you have a body of water on your property or simply a stone walkway.
If you have a patio or terrace, you can light it up beautifully by placing your landscape lighting high up in surrounding trees. This is an excellent way to light up the area at night and sit with family or friends without having to be bothered by harsh lighting. You can even use bulbs that are of a different color for an even cooler effect.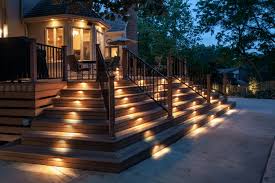 This method will make it seem as though the lighting is more indirect, which makes for a more soothing experience while out on the patio or terrace. It is referred to as "indirect lighting."
Once you've decided the landscape lighting design you would like to use in your yard, be sure come by any of our stores and see our display by Corona Lighting!