10 Tips to Add Aesthetics To Your Porch Area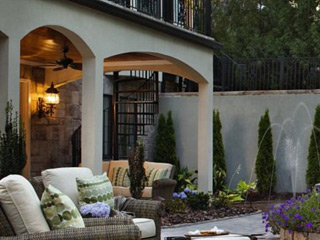 1. Landscape Lighting
Landscape lighting is a great way to add some aesthetic appeal to your home's exterior. You can use landscape lighting to illuminate walkways, patios, driveways, and even steps leading up to your front door. There are many different types of lights that you can choose from, including floodlights, spotlights, downlights, track lights, and recessed lights.


2. Perennials
Perennials are a great option for adding color to your yard. They are low maintenance, require little care, and last for years. They can be planted in containers, raised beds, planters, and flowerbeds. Popular perennials include hostas, daylilies, peonies, geraniums, and pansies.


3. Bonsai Trees
Bonsai trees are a great addition to any garden. They have been cultivated for hundreds of years and take time to mature. They can be grown indoors or out depending on where you live. If you want to start growing bonsai trees yourself, you should first learn how to prune them correctly.


4. Flowering Plants
Flowering plants are a great way to add color to your yard. Many flowering plants are easy to grow and don't need much attention. Popular flowering plants include petunias, marigolds, zinnia, cosmos, sunflowers, and snapdragons.


5. Edging
Edging is a great way to define your property line. You can use edging materials like brick, stone, wood, concrete, and pavers. You can also use decorative items like stones, statues, fountains, and benches.


6. Water Features
Water features are a great way to bring water to your yard. You can install a fountain, pond, waterfall, or koi pond. These are popular options for both residential and commercial properties.


7. Outdoor Furniture
Outdoor furniture adds comfort and style to your patio or deck. You can find chairs, tables, umbrellas, lounges, hammocks, and chaise lounges to our own preference.


8. Mosaic Tiles
Mosaics are a fun way to add some character to your porch area. They are inexpensive and easy to install. You can find them at home improvement stores or online.


9. Stained Glass Windows
Stained glass windows are a beautiful addition to your porch area. These are expensive but well worth it. You can find stained glass windows at home improvement stores or on websites like Etsy.


10. Decorative Pillows
Decorative pillows are a great way to dress up your porch area. You could use old blankets or throw pillows to create a cozy atmosphere.