Outdoor Fireplaces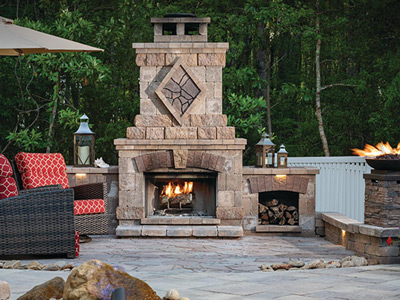 In today's fast-paced world, finding a peaceful retreat in your backyard is a treasure. Outdoor living areas have become an extension of our homes, a place to relax, entertain, and connect with nature. To truly embrace the outdoor experience, creating a comfortable and welcoming ambiance is essential.

One remarkable way to achieve this is by incorporating an outdoor fireplace into your landscape design. These captivating features add warmth and charm to your outdoor space while being a focal point, encouraging friends and family to gather, share stories, and make lasting memories. At Patagonia Building Supplies, we craft the perfect outdoor fireplaces to suit your needs.

One of our outdoor fireplaces' striking features is their design versatility. They come in various styles, from classic to modern, enabling you to select one that harmonizes with your home's architectural aesthetics. Whether you prefer a traditional brick fireplace or a sleek, contemporary design, there's an outdoor fireplace option for everyone, and we are here to help.


Range of Outdoor Fireplace Options
Integrating an outdoor fireplace into your living area lets you choose the features that best align with your lifestyle. Options such as wood-burning or gas fireplaces, cooking capabilities, and even built-in seating arrangements can be tailored to meet your desires. This personalization allows you to create a unique outdoor space catering to your needs and preferences.

We specialize in designing outdoor fireplaces that seamlessly blend low maintenance and high efficiency. We understand that your outdoor space should be a source of relaxation, not extra work. Our expertly crafted fireplaces are beautiful and designed with minimal upkeep in mind. As mentioned, we offer a range of options, including efficient gas fireplaces and easy-to-maintain wood-burning models. This means you can enjoy a fireplace's warmth, ambiance, and convenience without the hassle.

Professional installation is vital to ensure your outdoor fireplace is a secure and enduring addition to your landscape. Experienced experts like us understand the complexities of building outdoor fireplaces, including proper ventilation, clearances, and safety measures. This approach guarantees a beautiful feature that adheres to all safety codes and regulations.


Customized Outdoor Fire Features
Our approach to fireplace installation revolves around customization. We recognize that each outdoor space is unique, and our dedicated team tailors every structure to align with your specific vision and requirements. We work closely with you to understand your design preferences, functionality needs, and aesthetic aspirations.

From the type of fireplace to the choice of materials and integrated features, we focus on creating a fireplace that complements your outdoor living area. This personalized approach guarantees that your fireplace adds warmth and charm and reflects your individual style and the distinct character of your landscape.

For details about our outdoor fireplaces, please call Patagonia Building Supplies at the numbers on this page, based on where your area. You can send us your product/service-related inquiries via this Contact Us form. One of our team members will call you to provide details.