Building Materials in Inglewood, CA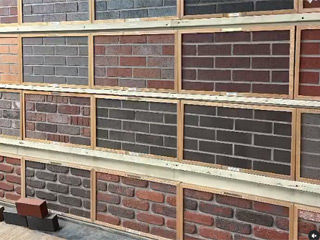 Welcome to Patagonia Building Supplies, the premier supplier of building materials in Inglewood, CA. As a second-generation, family-owned, and operated company, we bring over three decades of expertise and experience to the building industry.

Our commitment to excellence has made us the trusted choice for individual property owners, landscaping and building contractors, and outdoor living architects throughout the region.


Range of Building Materials
At Patagonia Building Supplies, we offer a diverse range of high-quality building materials. Our extensive supply yard has various hardscaping and landscaping materials to meet all your unique needs such as:
From bricks, stone veneers, concrete pavers, and natural stone to landscaping rock, stones, boulders, and various aggregates, we have everything you require to bring your vision to life.
Additionally, we offer soil, mulch, pebble stones, and sand to complete your specific landscaping projects.
Your One-stop Building Materials Shop
Over the years, we have built strong relationships with leading manufacturers in the hardscaping and landscaping industry across the United States. This allows us to be a full-service building materials supplier, providing you with a wide selection of products and easy access to vendor and professional contractor referrals.

We are committed to being your one-stop solution for all your building material needs. If you're searching for flagstone for your patio, interlocking driveway pavers, or high-quality gravel for your landscaping, our experienced sales team is here to assist you.

We have the knowledge and expertise to provide the information you need to make your next project successful. If you're a contractor, landscaper, or architect working on a large-scale project, let us specify the required materials.


Things That Set Us Apart in The Building Materials Space
Many things set us apart from other providers in the area, such as:
We work closely with importers, various brands, and local manufacturers, to offer you high grade building materials.
We strive to exceed customer expectations and deliver unparalleled satisfaction.
If you can't find exactly what you're looking for within our vast inventory, rest assured that we are committed to going above and beyond to source it for you.
Your unique needs and requirements are our priority, and we are dedicated to ensuring you have access to the materials necessary to bring your projects to life.
Settling for anything less than the best is not an option when choosing building materials. With us you can trust that you are choosing a trusted partner in the construction industry. Our team is here to support you every step of the way, providing exceptional service and guidance to help you achieve the services and products you expect.


High Quality Building Materials
Don't compromise on quality or settle for less when ordering building materials. Choose Patagonia Building Supplies as your reliable partner. Contact us today and experience our unwavering commitment to customer satisfaction and dedication to delivering the materials you need for success.

Call us today to discover the difference that Patagonia Building Supplies can make in your outdoor living projects. Our knowledgeable team is ready to assist you in finding the perfect materials for your specific needs. We are committed to delivering excellent solutions and ensuring you have the right materials to make your vision a reality.


Contact The Local Building Materials Experts
For any inquiries regarding building materials in Inglewood, CA, contact Patagonia Building Supplies at the provided phone numbers. Our dedicated team is ready to assist you with any questions. They will help with material selection and estimations and plan the deliveries per your preferences. We always go the extra mile to ensure you get value whenever you do business with us.

Alternatively, you can also use the convenient Contact Us form to submit your inquiries or requests for product information. Rest assured, one of our experts will promptly contact you with the necessary details. Don't hesitate to reach out and discover how Patagonia Building Supplies can meet your building material needs.