Fireglass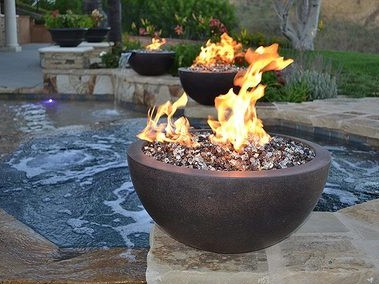 Fire glass is the perfect way to enhance the look of an old fireplace or fire pit and delight visitors at the same time. If you are bored of looking at the same old gas logs and exposed piping, choosing fire glass is the best thing to do, as the translucence of fire glass will hypnotize you and create quite a spectacle as it shimmers and glitters under the night sky.

Fire glass is composed of small bits of tempered glass that is mostly used in fireplaces & fire pits, and it serves two purposes; aesthetics and functional. The fire and ice combination quickly became a fast growing trend for homeowners and designers since its introduction. Fake ceramic gas logs were thought to kill the natural ambiance of a dancing flame, so fire glass became the better alternative, as it makes it apparent that you are experiencing a real flame.

Fire glass provides a decorative way to cover up gas jets with beautiful crystals and pebbles that not only look great but increase heat radiation by up to 4 times! Fire glass is made from tempered glass allowing it to withstand extreme temperatures without losing its color, shape, or shine. Moreover, it will not emit any ash, smoke or toxic fumes and is very low maintenance.

At Patagonia Building Supplies, fire glass from American Fireglass (americanfireglass.com) is available in a variety of shapes and colors that can create a glowing focal point in your backyard or even inside the family room. We recommend their materials as they are a pioneer in the fireplace/fire pit glass and burner products industry, but also because their state-of-the-art manufacturing process, great customer service, stringent quality control and unique business model sets them apart from the competitors.

Click on the images below to view a larger display.


Black Reflective Fireglass

Bronze Reflective Fireglass

Cobalt Blue Reflective Fireglass

Copper Reflective Fireglass

Platinum Reflective Fireglass