Outdoor Kitchen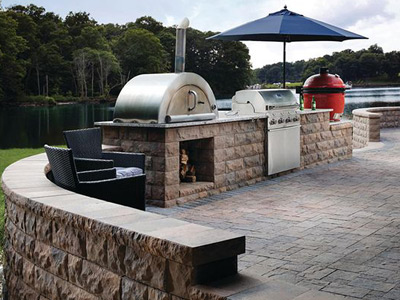 Outdoor kitchens are an investment that significantly enhances your property's functionality and value. They extend your living space, offering a versatile cooking, dining, and entertainment area. This added functionality makes your property more attractive to potential buyers, increasing its resale value.

Additionally, outdoor kitchens from Patagonia Building Supplies elevate your lifestyle, providing a unique and enjoyable space for gatherings and relaxation. The convenience of outdoor cooking and dining also reduces indoor heat and mess during summer.


Outdoor Kitchen Designs and Plans
We can build a practical and luxurious outdoor kitchen that enriches your daily life while boosting your property's overall worth. Our outdoor kitchen designs and plans revolve around your unique preferences and available space. Here's how we bring your dream outdoor kitchen to life:


We begin by conducting a comprehensive survey of your outdoor area. Understanding the dimensions and layout is crucial for optimal design.


Our designs are not one-size-fits-all; they are tailored to your needs. We consider your lifestyle, cooking preferences, and entertaining habits to create a space that suits you perfectly.


Comfort is paramount. We ensure that your outdoor kitchen is ergonomically designed for ease of use and movement, allowing you to enjoy cooking and dining in a relaxed atmosphere.


We focus on incorporating ample storage solutions and utility areas to make the most of your space. This ensures that your outdoor kitchen is beautiful and highly functional.


While utility is essential, aesthetics is equally important. We balance functionality and beauty, creating an outdoor kitchen that complements your home's style and enhances your outdoor living space.


Your outdoor kitchen is exposed to various weather conditions. We prioritize durability by using high-quality materials and weather-resistant features to ensure your investment lasts for years to come.


Custom Outdoor Kitchen Design
Our outdoor kitchen designs are meticulously crafted to cater to your unique preferences and property. We understand that every homeowner has distinct tastes and requirements. That's why we offer custom designs tailored to your specific needs, ensuring that your outdoor kitchen reflects your style and complements your property seamlessly.

Whether you prefer a modern, sleek look or a rustic, cozy feel, our experts work closely with you to bring your vision to life. With custom designs, we ensure that your outdoor kitchen becomes a harmonious extension of your property, enhancing its functionality and adding to its aesthetic appeal.

Your preferences and your property's distinct characteristics are at the forefront of our design process, resulting in a one-of-a-kind outdoor kitchen that is as unique as you are.


Cost-Effective Outdoor Kitchen Solutions
Our affordable outdoor kitchen solutions are designed to provide you with all the essentials for a functional and stylish outdoor cooking and dining space without breaking the bank. We offer budget-friendly materials and design options that don't compromise quality or aesthetics.

Our goal is to make outdoor kitchens accessible to a wide range of homeowners, ensuring that you can enjoy the benefits of outdoor living without exceeding your budget. Our cost-effective solutions allow you to create an outdoor kitchen that suits your needs and enhances your property's value without financial strain.

Please speak with Patagonia Building Supplies experts at the numbers listed on this page based on your location. Alternatively, you can send us your service or product-related inquiries via our Contact Us form. One of our team members will call you to provide details.