Landscape Supplies in Santa Ana, CA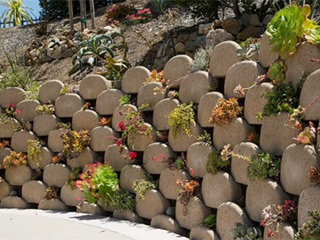 Patagonia Building Supplies is a proven company for all landscaping supplies in Santa Ana, CA. We offer a wide selection of top-quality landscaping supplies to ensure the successful completion of your project. Whether transforming your property with beautiful landscaping or tackling a long-awaited lawn upgrade, we have everything you need to bring your vision to life.


High-Quality Landscaping Supplies
Our commitment to excellence extends beyond industry professionals—we also cater to homeowners. We understand the importance of having the right tools for the job, and our knowledgeable team is here to provide you with the information and guidance you need to make your landscaping project a resounding success.

Every landscape is unique and requires various features for a complete and cohesive look. Each element is essential, from plants, shrubs, and trees to lawns and synthetic turf. However, the foundation of any landscape lies in the masonry elements. The materials used for these features must be of the highest quality to withstand the test of time.


Timely Delivery of Landscaping Supplies
We work closely with renowned brands, various local manufacturers, and major importers of superior building products. When you purchase materials through us, you can be confident that you're investing in elegant, weather-resistant features that will endure for years with minimal maintenance. In addition to our wide range of landscape supplies, we take pride in providing exceptional service to our customers.

We understand that timely delivery is crucial to keeping your project on schedule, and we strive to meet your expectations. Our team provides personalized attention to every customer, ensuring your unique needs are met, and you receive the support and guidance necessary to achieve your goals.


Cost-Effective Landscaping Supplies
Whenever you choose us, you can access a comprehensive selection of high-quality materials backed by our expertise and commitment to customer satisfaction. From decorative stones and pavers to retaining walls and outdoor living essentials, we have the products you need to create the outdoor space of your dreams.

In addition to our extensive inventory, we offer competitive pricing to ensure you receive excellent value for your investment. Our team stays up to date with industry trends and innovations, so you can trust us to provide you with the most cutting-edge products.

We aim to be your trusted partner throughout your entire project journey. We're here to provide you with the best materials, knowledge, support, and guidance to bring your vision to life. We invite you to visit our location, where our experienced team is ready to assist you in selecting the perfect supplies for your project. Let us help you transform your outdoor space into a stunning oasis that will envy the neighborhood.


Call Us for All Your Big and Small Landscape Supply Needs
As mentioned, our landscaping supplies include pavers, landscape boulders, decorative rocks, and more, allowing you to create stunning outdoor spaces that stand the test of time.

We cater to smaller landscape supply requirements and bulk needs and offer unwavering service and high quality every single time. We are committed to delivering excellent customer service and addressing your queries promptly and professionally.

If you have any inquiries about landscaping supplies in Santa Ana, CA, please get in touch with Patagonia Building Supplies using the provided phone numbers. Our dedicated team is ready to assist you and provide your needed information.

You can also utilize the Contact Us form on our website for a more convenient way to reach us. Fill out the form with your inquiries or requests for product information, and one of our experienced experts will promptly respond with the necessary details.

Contact Patagonia Building Supplies at the provided phone numbers or use this convenient Contact Us form to submit your inquiries or requests for product information. We will contact you with the details you need.