Drought Tolerant Plants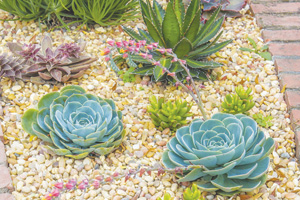 When planning a landscape, you want to ensure that the outdoor spaces are beautiful, long-lasting, and low maintenance. Other aspects that many homeowners consider are sustainability and cost-effectiveness. An increasing number of individuals are opting for drought-tolerant landscaping. At Patagonia Building Supplies, we supply and assists with the planning and installing various drought-tolerant plants.


Types of Drought-Resistant Plants
Though homeowners make occasional unique planting requests based on their preferences, a more significant proportion of a sustainable landscape should have drought-resistant plants. These plants use far less water and thrive on soils with little water-holding capacity.

We can supply the grass varieties that exhibit a high level of drought resistance and thrive in dry soil types. Centipede grass, bermudagrass, bahiagrass, and zoysiagrass are all drought-resistant grass species. We will assess the soil on your property and recommend varieties that will survive and flourish there. During prolonged periods of drought, the grass will become dormant and revert to green once it rains.

Our crew possesses extensive horticultural expertise and is well-versed in various plants, trees, grasses, and soil types. We apply this knowledge and experience to create and build breathtaking landscapes. There are several low-water succulents and other vegetation that we may use in our projects.


Drought Resistant Plants of The Highest Quality
The plant quality is critical since it determines the lifespan of your landscaping. We take particular care to use the highest quality plants and the proper type of soil in the job. The team works with you to ascertain your unique preferences and make planting recommendations accordingly. The goal is to produce a well-balanced ecosystem that is visually appealing, sustainable, and long-lasting. When you choose water-efficient plants, you will find that you save money over time.


Designing A Water-Efficient Landscape
Whether you want to add a few drought-tolerant succulents to your existing landscape or require plants for the entire project, we can help. We provide the plants you need and complete planning and design services. The team concentrates on zoning, which groups plants according to their watering requirements. After that, we may add more shrubs or bushes to the landscape, depending on your preferences. While we supply incredibly high-quality solutions, you will discover that our drought-resistant landscaping costs are affordable.

Along with drought-tolerant plants, we have all you need to create a low-maintenance, sustainable landscape. We provide all the supplies you need for your new landscape, including rocks for hardscaping along fences and property borders, pebbles for placing around plants, dry wood, and compost for soil preparation. Our company is capable of meeting all of your landscaping and architectural requirements. We can design and construct unique and appealing personal sanctuaries, hidden havens, and personal escapes using the choicest drought-tolerant plantings. This approach helps ensure stunning outdoor spaces that are a pleasure to look at and use.

For additional information about drought-tolerant plants, please call Patagonia Building Supplies at this number or send us your requests and product inquiries via this Contact Us form. One of our experts will call you soon to provide details of the types of plants and services we provide.