Landscape Edging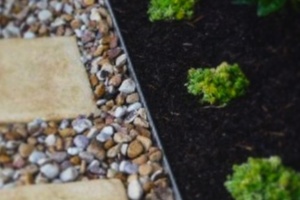 Landscape edging brings a layer of aesthetic level to your lawn. It is also functional as well as attractive, as it is used to separate different areas of your lawn. The most common use is around flowerbeds, shrubs and other plantings. Edging materials also provide a stable framework for walkways and patios, while creating a contrast between two distinct areas. Visually it provides a crisp, clean manicured look, while physically creating a functional separation. Landscape edging can be applied to the lawn perimeter, bed edges and borders — anywhere hardscape materials, plants and grass spill over where they shouldn't.
Whether you want to dress up a swath of perennials, draw attention to a bench in the distance, or simply keep gravel contained, freshening up your edges often does the trick. There are 3 common types of edging:
Masonry: concrete, brick and stone provide a solid edging in a variety of colors, shapes and sizes. Brick and stone edging has a timeless and classic appearance of clean lines; it's easy to install for straight runs and also angles in your landscape design. Another long-lasting edging material is concrete, which provides a neat, clean and durable edge, particularly for high-traffic areas.
Strip Edging: made of steel, aluminum or plastic is held in place with metal or plastic stakes and works well for curves and shapes. This type of edging is less work intensive than most other materials, as the edging can be hammered into place, no trenching required. Note, though, that plastic edging is similar to metal edging, but it does not last as long before needing replacement. The strong rays of sunlight will eventually make plastic dry out, crack and break.
Wood Edging: it includes railroad and landscaping timbers, pressure-treated and composite products that provide a strong, long-lasting edging, but require a little ground work for installation. Wood is an attractive natural material that has a rustic appearance. Cedar, cypress and redwood naturally resist rot, while other types of wood need to be chemically treated.
You can use your imagination to create any type of garden edging that you can think of. As long as the materials are long lasting, even if they are in the ground, it will last for quite some time and give your lawn your own personal touch. Patagonia Building Supplies can provide you with any information you require, so please contact us today.

Click on the images below to view a larger display.


Epic Plastic Benda Board

Epic Plastic Benda Board

Epic Plastic Benda Board

Edge Ex

Various Epic Plastic Stakes and Accessories