5 Outdoor Uses For Mexican Clay Pots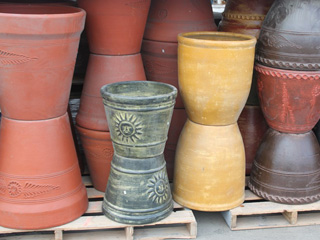 If you want to create a stunning landscape, you need to plan it well and carefully choose the materials and products. You may need supplies like pavers, natural stone, gravel, boulders, soil, and more, and this is where we come in. Patagonia Building Supplies is a leading company in this industry, operating out of multiple locations in Southern California; we cater to a wide range of clients.


How To Use Clay Pots Outdoors?
One way to enhance your outdoor spaces' usability and appeal is to use or place clay pots in different spots. You can use clay pots for many things, and here is a look at five outdoor uses for Mexican clay pots:


Install Plantings
In addition to installing plants and shrubs directly in the ground, outdoor clay pots of all shapes and sizes are ideal for various plantings. The advantage of using Mexican clay pots is that you can move them around the available space and create a new look in your landscape without too much trouble. Select pots of varying shapes, sizes, colors, and textures as they will help set the right balance in your landscape.


Table Base
A terracotta pot table is an excellent addition to your landscape, terrace, balcony, and patio or pool deck. Select a broad base and wide-mouth clay pot in the color you prefer. Place a glass tabletop of proportionate size and shape, and you will have a unique table to add beauty and value to your yard.


Umbrella Stand
Californian summers are unbearable at times, and the weather can become a deterrent during these months. Why not use a jumbo size clay pot as an umbrella stand? Fill it with pebbles, rocks, sand, and set a large umbrella in it to provide shade on your deck patio or garden.


Mobile Grill
A well-baked, good-sized clay pot is the perfect addition to your yard to make smores. You won't need a fireplace or fire pit. Place a Mexican clay pot in your balcony, yard, deck, or patio, and you have a portable grill instantly.


Garden Tools' Self-Cleaning Holder
Fill up a decent-sized Mexican clay pot with tiny pebbles or gravel and use this to stick in garden tools like spades, pitchforks, etc., after use. The roughness of the gravel helps get the soil off the tools, and they're ready for next use without much trouble. You can also add a special touch to this simple setting by using small, colored pebbles and decorative rocks.

You can also place LED lights in clay pots and use them as accent pieces in your yard. These are just a few exciting ideas of using Mexican clay pots in landscapes and yards. However, you will also want well-finished, perfectly shaped, robust pots for these and other uses. Please call Patagonia Building Supplies at the numbers listed on this Contact Us page for the best quality clay pots. Our team is here to help you with the information you need regarding Mexican clay pots and the other products.