5 Ways to Warm Up Your Outdoor Living Space for the Fall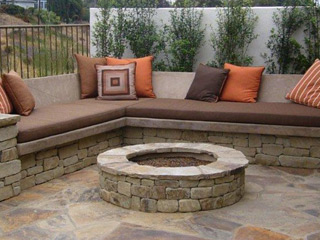 There's no better season to enjoy the outdoors than fall. Fall is one of the best seasons temperature-wise, which means it's the perfect time to enjoy the outdoors.

An outdoor living space is easy to prepare and warm up. In order to be able to take advantage of outdoor living during the fall, there are a few things to consider and be prepared for - such as introducing a patio cover and some type of heat.

Here are five ways to equip your patio, terrace, or yard to make the most out of it this Fall.


1. Get warmed up with a fireplace
A fireplace is a great source of warmth to enjoy during the fall season. It's both practical and compact. It provides warmth on those crisp fall nights, yet creates a wonderful ambiance.

Whether you are enjoying yourself with your loved ones or just relaxing by the fire with a glass of wine, this is the perfect option to share such an experience.

If you find it difficult to install a large fireplace on your patio, there are many options available such as small fire pits or tabletops. They're just as useful as a traditional fireplace, and perhaps, quite a bit more, practical as well.


2. A patio cover or pergola to protect your outdoor living area
A patio cover or pergola is a great option for warming up your outdoor living area. It is not only for the summer season but also perfect for fall.

In summer, you will get the shade you really want. Moreover, in the fall you will be protected from rain, cold and the elements.

This, in addition to covering the furniture, will guarantee that your outdoor living area is protected from the cold, wet weather that comes in the fall.


3. Installing a fire pit
A fire pit is a common-sense choice for adding warmth to outdoor living and creating an excellent atmosphere in your backyard.

There are many different options available to use. Portable fire pits are very inexpensive.

If you want a longer-lasting fire pit, you can explore the options of having a proper masonry fire pit built by a masonry contractor, or you can try doing it yourself! Having a fire pit will really kick things up a notch, and will increase your property's value.


4. Adding some heated seats
Adding a heated seating area can also be useful in warming up your outdoor living with great pleasure.

You can use comfortable furniture and custom heated blankets and accessories to make your outdoor living a bit nicer and warmer.


5. Light things up a bit
Great lighting may not actually make you feel warm, but it will create a nighttime glow that makes the outside feel much more comfortable.

Creating a delicate glow will not only make your outdoor deck or patio more pleasant, but it will also protect you or your family members from tripping or falling in the dark.

This is the best option if you want to make your outdoor life more magical and warm.

Kill two birds with one stone by investing in heat lamps which can be used to warm and brighten a space.


Conclusion
We all need to take advantage of our outdoor living areas, even in the cooler months. You've spent a lot of money building your dream home, you might as well use it!

If you require some advice, contact us, and we'll help you set up your outdoor living space for fall.