Let's heatwave-proof your backyard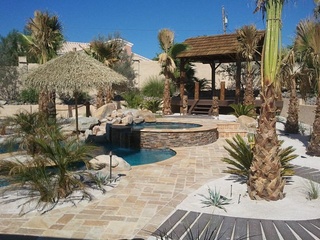 It's been a hot one over the past two months. June & July were not only blazing hot in the US but also in the EU, and all over the world.

We have taken our fair share of the brunt down in sunny Southern California. But we live in CA because we love the weather, the nature and the outdoors. We don't want stay inside and shelter in place for the next 2 months!

So, what can we do?


Outdoor living - all year round
If you stop and thinking about it, you can 'live outdoors', it just requires a lot of features in order to make it as comfortable as possible. Yes, you can also camp outdoors and live off the land, but if you wanted to make your own backyard retreat, and be relatively un-bothered by the elements, it could be done!


Creating an outdoor living space
But is it even possible to spend time in your outdoor living space during a heatwave? Of course it is! Don't let the news and media outlets fear you into thinking you can't even be outside for risk of death by sweat.

You can make a space. You simply need two things:

1. Some sort of water source in which to dip the body for rapid cooling
2. An area that is shaded so you can sit un-battered by the sun


Water features
Obviously the first choice is a pool, but you already knew that! And we're not going to insult your intelligence, but yes, a pool is a great option if you have the space for it on your property.

Now, if you don't have a full-sized pool, check out these ideas:


Cold tubs: Did you see what we did there? Instead of 'hot' tub we just renamed it 'cold tub'. Just don't bother turning on the heat. While the water won't be cool exactly because it will be heated by the hot ambient air, it will still be quite refreshing!


Slip & slide: A great thing about this is you can pack it up when you're done and throw it into the garage, and takes up little space, but provides BIG fun for the kids and of course the adults. Who doesn't love these things? And they're extremely affordable.


Small fiberglass pools: If you didn't like our 'cold tub' idea then you probably want the real deal, and thanks to fiberglass they are making very nice sized 'small pools' that are 1) inexpensive and 2) come in super cool shapes and 3) can fit in nearly any backyard.


Rain curtains: I bet you didn't see this one coming! It's a landscape ornament but also an effective cooler for the body! Just walk right under it. Kids love them of course, and adults too. They not only act as an outdoor shower, but they make your garden look rather sophisticated.


Recessed floor fountain jet: Hands down the most fun option, but also the most expensive, so maybe not the most fun after all, BUT the kids will absolutely love them.
Shade Structures
The second piece of the puzzle is to have a spot where you can sit, after you've taken a dip, and just cool off in the shade, and let the water evaporate off your skin, without the sun's rays baking you alive.


Shade sails. A very affordable and easy to install option. These give you shade and a bit of an 'island vibe', if you're going for a tropical motif in your backyard oasis then these are a must, so you can finally fulfill your dream of becoming a pirate.


Pergolas. There is nothing quite as charming as a pergola, and these days they come in a variety of styles from traditional, contemporary to modern. And it doesn't stop there! Many builders have options to put a clear plastic covering over the top, so rain doesn't fall straight through (one of the issues inherent to pergolas).


Pavilions. Let's take outdoor living to the next level and build a little house, with a finely crafted pitched roof, but no walls, just posts. These structures are very cool indeed and if furnished correctly, can double for a 'living room'.


Umbrellas. Don't be underwhelmed at this suggestion, reader! The umbrella is in fact the most versatile shade structure, as you can move it anywhere you want, or wrap it up and throw it into the garage!
Conclusion
Now, let's get out there and build your outdoor living backyard oasis retreat! Just a little shade, a little water and you'll be good to go.

You want your dream home, but you have questions! No problem, we'd love to answer ALL of them. Just give us a call at the numbers listed on this Contact Us page! We have all the masonry supplies you'll need for your project, and can recommend trusted local contractors to get the job done right.