How To Create an Outdoor Living Space despite a Drought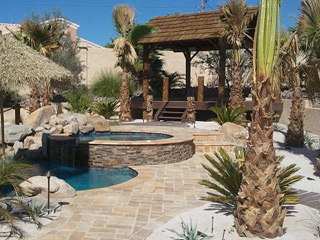 Your home's outdoor living spaces are ideal for relaxation and enjoying the open air. But given the current drought conditions, it becomes essential to consider swapping out some existing living features with more drought-tolerant ones. Many homeowners wonder whether they can achieve the same aesthetic, inviting look, and functionality in their alfresco areas with water-efficient installations.

At Patagonia Building Supplies, we believe this is entirely doable. Here are some simple yet effective ways to create fabulous outdoor spaces that will not need much water or maintenance.


Tips To Create Drought-Resistant Outdoor Living Spaces
You can create a lovely yard and outdoor living areas without an elaborate irrigation system or hours of labor every day. Here are some helpful tips:


Increase The Number of Hardscaping Elements
Increasing the proportion of hardscaping in your outdoor areas is one of the simplest ways to make it more drought friendly. More plants and natural lawn spaces mean more water. In drought conditions, installing paved patios and decks is the best way to create a water-efficient outdoor living space. Create fire feature zones with paver floors and seating walls around them. You can install other stunning elements like retaining walls with inbuilt seats along patio areas and have some planter spaces above them. Creating a welcoming and comfortable outdoor living space with a few well-planned hardscaping products doesn't take too much effort.


Place River Rocks and Boulders
This is another excellent way to create stunning drought-tolerant outdoor living spaces that are easy to maintain. Consider replacing some of your existing green surfaces with well-placed river rocks to create an attractive outdoor space. Dry creeks look amazing with just a few plants along the edge, and you can install outdoor lights to enhance the look.


Choose The Right Plants
Before blindly rummaging through the plant nursery, arm yourself with a mountain of knowledge. Learning about natural environments and then recreating them with plant communities like the native ones is also crucial. Because of this, you will need fewer limited resources to sustain plant life, and they last considerably longer. Plants with silvery leaves, like lavender, reflect sunlight and are thus more likely to survive dry periods. Pick plants that don't require supplemental watering, including those with tiny, hairy leaves. Silvery plants with small, hairy leaves are a great fit, and you can install these in the planters at the top of retaining walls along your patio or outdoor kitchen.


Prepare Your Soil and Add Mulch
Experts stress the significance of preparing the soil. Nutrient-rich and self-sufficient soil relies heavily on organic materials, such as compost, manure, garden waste, or organic fertilizer, which is best to fight drought conditions. That soil must be protected just as much as everything else. The idea is to cover up the exposed ground with anything, like bark or gravel, to help delay water loss from the soil. If you replace the existing beds with rocks and boulders, it will help you create a more sustainable outdoor space.


Install An Artificial Grass Lawn
This one's a no-brainer. Natural grass looks great but needs regular watering to keep it healthy and thrive, making it a poor choice in drought conditions. Choosing artificial turf is an excellent way to have the green spaces you want without needing to install a high-water consumption feature like a lawn. Modern synthetic grass products are exceptional in appearance and feel. You can still have pathways leading from your patio to a lovely green artificial lawn without worrying about mowing, watering, etc.


Strategic Planting and Watering
When you plant densely at varied depths, you protect the soil from the drying effects of the sun all year round. Watering your plants too frequently might harm them since they will start to "expect" it and require it. But if you're 'firm' with them from the start, they'll develop a thicker skin, requiring less water. As mentioned earlier, install fewer plantings, and use the natural beauty of stone and brick pavers to create a superb outdoor kitchen, patio, or deck with minimal greenery.

If you need more pointers to create a drought-resistant outdoor living space, please call Patagonia Building Supplies at the numbers mentioned on the Contact Us page.