How to Hardscape a Sloped Yard: Options & Ideas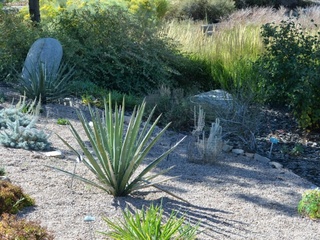 Not all pieces of land are completely flat. Indeed, some may have steep slopes. If you have a property with land like this, it is possible you've felt hopeless in your desire to have your own outdoor living space.

Worry not! There is much that can be done for a sloped yard. Here are some options:

Option #1: A sloped yard presents various problems, from difficulty in using the yard to erosion, soil loss, and plant deterioration. The first (and most common) solution to hardscaping a sloped yard is designing and installing retaining walls. Retaining walls create a tiered wall system, with each tier offering flat, usable space. Homeowners can use railroad ties, stone pavers, or concrete to form the tiers, each offering its own compelling design and aesthetic touch.

Option #2: A sloped yard can also be dramatically improved with hardscaped steps, i.e., stone, brick, concrete steps, gravel treads, and other installations that create an easy, erosion-free way to travel up and down a sloped outdoor space. In this option, you can let vegetation grow on most of your yard but use an artful, hardscaped stairway to travel from one section of the yard to another.

Option #3: Work with water! Since a sloped yard has gravity built into it, why not design a waterfall or a hardscaped stream? Not only will the soothing sound of trickling water add a new layer of aesthetic beauty to your outdoor space, but a seasonal water feature is a great way to maximize the aesthetic in any sloped yard. Sloped yards offer an easier base for installing water features than non-sloped yards, as the "water flows downhill" aspect is already taken care of for you.

Option #4: Work with rocks! Sloped yards can make for tricky landscaping, as erosion and poor soil quality make growing favorite plants, flowers, shrubs, and trees difficult, sometimes impossible. Rather than fighting the elements (and as an alternative to retaining walls, tiers, water features, and stairways), simply add your favorite type of rocks to your sloped yard space. Placing large and medium-sized rocks on a sloped yard discourages erosion and adds a diverse and interesting visual component. Furthermore, adding rocks in a grouping enables you to install plantings in between the rocks. The rocks will protect the plants from excess erosion!

Option #5: Use a singular retaining wall. Rather than using multiple tiers of smaller walls, another option is to create a singular, large, engineered segmental retaining wall. This will take a sloped yard and essentially bisect it into two distinct, level yard spaces, one considerably higher than the other. These are best designed with the help of an engineer, and if you use a water-pervious system, you'll never have to worry about water damage or erosion.


What's Next?
Whether you're building a retaining wall for your home, or you're a contractor building one for a customer, Patagonia has got the supplies you need. We'll get you loaded up and out the door, fast and at a reasonable price. Visit one of our three locations (Inglewood, Santa Ana, Agoura Hills) to see our selection of fine materials!

Just give us a call: 310-410-3108