How to Lower Your Water Bill by Changing Your Landscaping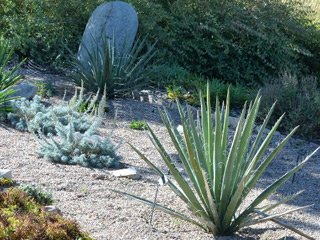 Landscaping provides aesthetic value to your home. It benefits the environment too. But the plants and trees you have in your home need water to stay alive. You pay for the water that is supplied to your home. It makes sense to use the precious resource intelligently.


How to Lower Your Water Bill by Changing the Way You Maintain Your Lawn
There are many ways to simultaneously save water and money on your water bill. Consider the following points to optimize your water usage:
Change your lawn's irrigation system to a drip irrigation system - this will reduce the water used for each lawn square foot by up to 50%.
Use a rain barrel or cistern - this will allow you to use collected rainwater instead of tap water for watering your lawn, which can significantly reduce your monthly bill.
Replace your lawn with deep-rooted and sustainable plants - these are low-water, drought resistant, and require less fertilizer and pesticide.
Choose native plants rather than exotic ones - these typically need less water to survive.
Using gravel for landscaping – The top dirt layer tends to get dried up under the sun and loses all the good microorganisms supporting plant growth. Laying a layer of gravel on the plat bed helps the soil stay moist and gives a stylish look. As the soil stays humid for longer, it reduces the need for water, thereby reducing the water intake by up to 50%.
More Lawn Care Tips for a Low Maintenance Lawn
With the right tips, you can have a low-maintenance and beautiful lawn. If you are not sure where to start, here are some basic yard maintenance tips that will keep your lawn looking great:
Watering your lawn: It is essential to water your lawn regularly. It will keep the grass green, healthy, and robust. For best results, water in the morning or evening when the sun isn't as harsh on your grass.
Mowing: Mowing is an essential part of maintaining a healthy lawn. Regular mowing keeps weeds at bay and ensures there isn't any overgrowth or tall grass in your yard.
Grassing: If your lawn is thin and you struggle to see the grass, consider laying down some fresh sod. Sod is a great way to cover up any brown spots or uneven areas in your yard.
5 Plants That are Drought Tolerant
Maintaining a lawn can be a tedious and time-consuming task. But it doesn't have to be this way! Use the plants listed below as they are drought tolerant and require little to no water. They can be planted in a garden, on a balcony, or even in pots.
The Bottle Brush Tree: This plant has beautiful flowers and is also known as the Callistemon. It is native to Australia and requires little water to survive.
The Agave: This plant looks like a cactus but does not need much water. It has beautiful flowers that bloom in the springtime and can be used for food if you harvest them when they are mature.
The Elephant Ear Plant: This plant is also known as Alocasia. It does well with low light conditions, which makes it perfect for urban areas that have high pollution levels or don't get enough sun.
The Geranium: This plant needs little to no water, is easy to grow, and has beautiful flowers that bloom in the springtime.
The Cactus: These plants are drought tolerant and require little to no water. They can be planted in a garden, on a balcony, or even in pots.
Saving Money on Your Water Bill is Easier Than You Think
In conclusion, water is a vital resource. It is not just the most crucial thing in life, it is also an important resource for our planet and economy. The more we use water, the more expensive it becomes. Optimizing your water usage can save up to 40% of your water bill!