Choosing the Right Boulders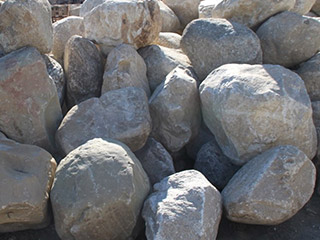 Stone and boulders are basic elements in a landscape. They are primarily installed for aesthetic purposes or highlighting certain spots or features in the landscape. When installed in their perfect locations, they can add height and texture to predominantly flat landscaping. Landscape boulders come in different sizes and may weigh several hundreds to a thousand pounds. Their installation requires special tools, heavy-duty equipment, and manpower, so it's better to get the help of professionals.

It is also important to consider the capabilities of your stone supplier. Do they have the right type of boulder that you need? Can they deliver the products to your location? And here at Patagonia Building Supplies, we have these capabilities. We have everything you need for your landscape improvement project. Our company has the largest inventory of stones and landscape boulders compared to other local suppliers in Southern California. This is one of the reasons why a lot of property owners rely on us whenever they need materials for their home and outdoor improvement projects. Some of the areas we serve include Orange County, Los Angeles, South Bay, Inglewood, Santa Ana, and Agoura Hills, CA. If you're from any of these areas, please call us at (310) 478-7276. You may also contact or visit our other showrooms, which are all conveniently located to give clients like you easy access to premium landscaping stones and supplies.


Choosing the Right Boulders
Choosing the right type of boulders, from cobble or rubble for your landscaping is not an easy task. You must have the skills and in-depth knowledge of the characteristics of different stones. Some of the factors that you have to consider include the size, type, texture, and number of landscape boulders needed in your project. Choosing the perfect location is another issue. Placing them in the wrong spots can already change the look of your landscape or affect the harmony of the different landscape elements.

Meanwhile, you can follow this simple guide when choosing and installing boulders on your landscape:


Get them from local suppliers. Boulders are heavy and bulky materials. If you want to save on hauling cost, find a local supplier nearest your home or property. Your supplier can also help in the installation since they have the right equipment for moving large boulders.
Prepare the area. Make sure that the area is ready when you order your landscape boulders. This will facilitate the installation of the stone and avoid relocating it to another spot.
Make them as focal spots. Natural stones are effective in creating focal areas in a landscape. You can use your boulders as focal pieces in a rock garden or in water features.
Add functionality. Adding smaller boulders around your fire pit or outdoor fireplace is a good idea. You can use them as seating amenities.
Landscape edging or retaining walls. These materials are perfect for flowerbed edging. They can also be used as a retaining wall for gentle slope in the landscaped area.
More Attractive Landscapes
Landscape boulders can make your outdoor area more attractive and natural looking. With the help of your creative landscapers, you can have an outdoors that is relaxing, enticing, and beautiful. And don't forget to get these materials from reliable local suppliers like us at Patagonia Building Supplies.