Types of Pavers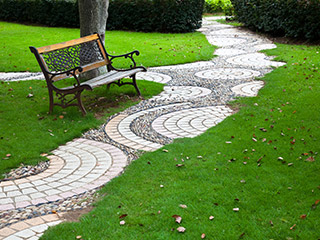 The most popular hardscape materials today are pavers. They are preferred by many property owners because of their outstanding qualities. Paver structures are proven durable and can last a lifetime when installed by professionals. There are also paving materials that can dramatically improve the aesthetic appeal of any outdoor feature or amenity. For example, a patio will look elegant and attractive if it is made from premium paver materials.

If you are planning to build a new paver amenity in your landscape or property, always look for a reliable supplier. There are a lot paver manufacturers and suppliers in the state, but not all can offer first-class products. Your paver features are investments, so make sure that they are made from the finest materials available. Contact us at Patagonia Building Supplies to get top-quality pavers. We source our products only from leading brands like Belgard and Contempo Pavers. We can cater to volume orders since we have a large inventory of paving materials in our showrooms. We also deliver them to any Southern California location, particularly in Orange County, Los Angeles, South Bay, Inglewood, Santa Ana, and Agoura Hills, CA. You may also call us at (310) 478-7276 for your orders or inquiries.


Types of Pavers
The beauty and functionality of your paved amenities largely depend on the type of paving material used in the project. There are some amenities that require a specific type of paver, so make sure that the paver you use is appropriate for the area. One good example is the pool deck. You have to use slip-resistant pavers on this area to avoid slip-and-fall accidents. Meanwhile, the different paver types that can be used on your outdoor improvement projects are bricks, stone, and concrete. You may also opt for the permeable type if you are an environment conscious homeowner.


Paver Designs
Achieving your desired look or theme for your outdoor feature will never become a problem when you use pavers from leading manufacturers. Most established paver manufacturers have extensive collection of paver designs that will suit the needs and distinct design taste of the clients. Some of the popular themes that you can adopt for your paving project include Old World, Mediterranean, contemporary, and modern. Other popular paver manufacturers includes Orco Pavers and Angelus Pavers.

Meanwhile, creating your unique or personalized design is easy since pavers are available in various colors, sizes, textures, and patterns. You can create an interesting pattern or play with different colors to make an area more welcoming and cozier. The different patterns that you can use on your paver features are running bond, basket weave, herringbone, and circular fan patterns.


Paver Features and Amenities
Pavers are versatile masonry materials since they can be used in a variety of applications. In residential properties, they are commonly used to build patios, walkways, driveways, garden paths, pool decks, courtyards, entryways, and outdoor living spaces. The paver features and amenities in commercial areas include parking lots, driveways, sidewalks, and pathways.

As a property owner, you want your project to run smoothly and completed on schedule. One way to do this is to look for a reliable supplier of construction materials. At Patagonia Building Supplies, we can be your reliable partner in completing your paver features and amenities. We maintain huge inventory of pavers and deliver them on time. Call us now.