Help Us Save California One Lawn at A Time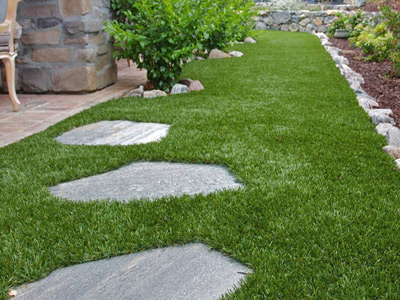 Remove Your Real Grass and Replace it With Synthetic Grass
Patagonia Building Supplies provides a range of landscaping products, including artificial grass. These products have come a long way from a decade ago. The high-quality synthetic grass available today looks and feels natural and is an excellent addition to any outdoor space.


Benefits of Artificial Grass
There are many reasons to consider installing these fantastic products in your commercial or residential landscape, such as:

Synthetic grass installation is quick, and you can get an instant lawn that will not need maintenance, water, or care.
You don't have to worry about installing irrigation or elaborate drainage systems
It will last for over a decade with occasional basic cleaning
No worrying about muddy footprints or paw prints
Enhances your front and backyard's appeal
Adds value to your property
Although these benefits are enough to catalyze you to switch to synthetic grass, there is one more reason to do so in the current drought situation.


State Rebates for Replacing Natural Grass With Synthetic Grass
Starting June 2020, over 6 million Californians were subject to new water restrictions due to the worst recorded drought in the state. State authorities are hard at work ensuring that people across the state adopt water conservation measures. Local authorities have requested that Southern California residents reduce their water consumption by at least 20 to 30 percent.

They are also being asked to reduce water consumption for landscaping, and other outdoor purposes to 1-2 days per week. With the state in its third year of severe drought, Governor Gavin Newsom cautions that if water conservation does not improve by September, the state may implement mandatory limits. This announcement and the current drought condition make it crucial for commercial and residential property owners to find ways to cut down on outdoor water consumption.

On average, Californians use 83 gallons of water daily, with 60-70 percent of that amount for outdoor water consumption. Considering that an artificial grass lawn or landscaping does not require watering, the water savings constitute a substantial benefit to resource conservation.

Participating water districts offer significant rebate incentives for artificial turf as a potential alternative for natural grass across the region. Synthetic grass is a great way to add beauty to drought-tolerant landscapes while saving substantial water. Natural grass needs regular watering to survive and can deteriorate quickly if it doesn't get sufficient water, especially during summer.

Please call Patagonia Building Supplies for the best artificial grass installations. You can speak with our team by calling the numbers on our Contact Us page. They will provide all the details you need about the products we carry and how we can help with the installations.


ADDITIONAL RESOURCES